Cardo Nougat Brown

Block-printed tablecloth & napkins
Khadi Check Kimono

Hand-woven khadi in brown & dove grey
Wood block-printing

Our heart and source of inspiration
Floradora Kimono Collection

Colourful & hand-printed
Cardo Nougat Brown
Block-printed tablecloth & napkins
Khadi Check Kimono
Hand-woven khadi in brown & dove grey
Wood block-printing
Our heart and source of inspiration
Floradora Kimono Collection
Colourful & hand-printed
Kimono robe and kaftan collection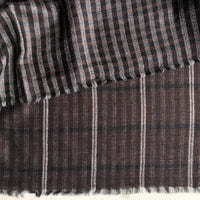 Scarves in soft wool, washed linen and handwoven cotton
Discover my large variety of scarves and shawls from North India. I use only pure natural fibers such as wool, linen, silk and fine cotton. The wool is mainly from Kashmir and incredibly light and soft.
Click for more choices
Block-printed tablecloths
New collection of block-printed tablecloths named Cardo, meaning thistle in Spanish. Available in 4 sizes and 3 colours: Nougat Beige, China Blue and Sage Green.
Hand-printed with wooden blocks in small scale production.
See all tablecloths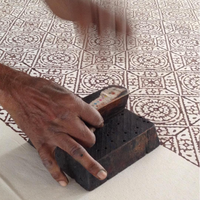 The block-print technique
The prints we adore and sell are all block-printed using a wooden stamp dipped in colour. This is an ancient technique still performed by skilled artisans in Rajasthan, India.